First Ladies and Concierge
At the heart of your stay at Fleuve Congo Hotel by Blazon Hotels Our "First Ladies" at your service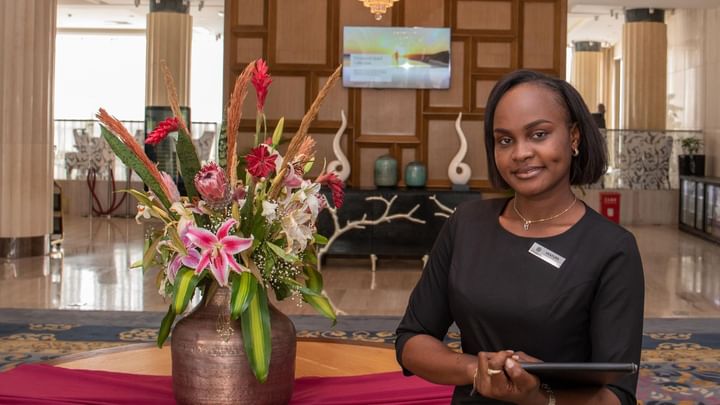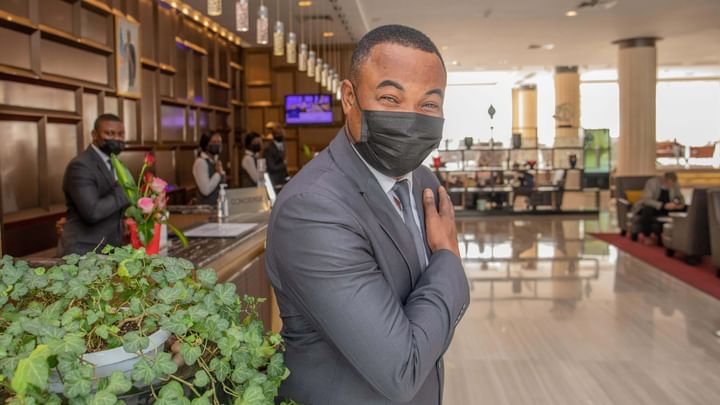 The Blazon Hotels brand places at the heart of its approach a fully customizable experience by offering flexible services to enrich the guest experience.
An operating philosophy focused on expertise and personal attention to its guests.
Thanks to this experience, the brand provides its customers with a tailor-made service through its ambassadors' names 'First Ladies' by Blazon Hotels.
Following the preferences and specific needs of our guests, establishing a lasting relationship with our guests, highlighting the values of the brand and ensuring the smooth running of operations in order to satisfy customers during their stay at the Fleuve Congo Hotel are the missions of the 'First Ladies', ambassadors and emblematic figure of Blazon Hotels.
As the privileged interlocutors of our guests, they register the requests and promptly propose adapted solutions in order to facilitate the installation of the customers in our establishment.
As brand ambassadors, they represent the General Management, ensuring that their messages are heard and that appropriate actions are taken.
They are seen throughout the hotel, dressed in their black uniform, always at the service of the guests with a smile that reflects the standard of the elegance, charm, courtesy and professionalism of Blazon Hotels.
The role of the First Ladies is to transform guest satisfaction into a memorable experience while providing personalized service in a luxurious environment.
With pleasure and enthusiasm, our First Ladies meet, greet, assist and develop a courteous relationship with all our guests who are also, in turn, our ambassadors to their friends and business partners.
Our 'First Ladies' accompany the guest and ensure their well-being throughout their stay at Fleuve Congo Hotel by Blazon Hotels.
Concierge
The Concierge Team of Fleuve Congo Hotel will be pleased to attend to your inquiries.
Transfers to and from the airport, restaurant reservations or a visit to one of the beautiful places around Kinshasa, let us organize your trip for you!
We offer beverage and wifi internet connection during your transfer to downtown.
Public Relations Executive, Fleuve Congo Hotel by Blazon Hotels